Cleaning prior to commissioning
A newly built metal process installation, piping system, tank or power plant undergoes various processes, such as rolling, welding, grinding, etc. before it is ready for commissioning (pre-commissioning).
Through these operations, the (metal) surface is contaminated with all kinds of undesirable matter, including grease / oil, welding skin, blasting grit and the like. In addition, these operations affect the temporary protective layer of the steel, causing (fly) rust. To obtain a clean, passive steel surface, chemical technical cleaning is often carried out prior to the commissioning of systems / installations, pre-commissioning cleaning. This prevents the medium that is to be stored or transported in the system from becoming contaminated.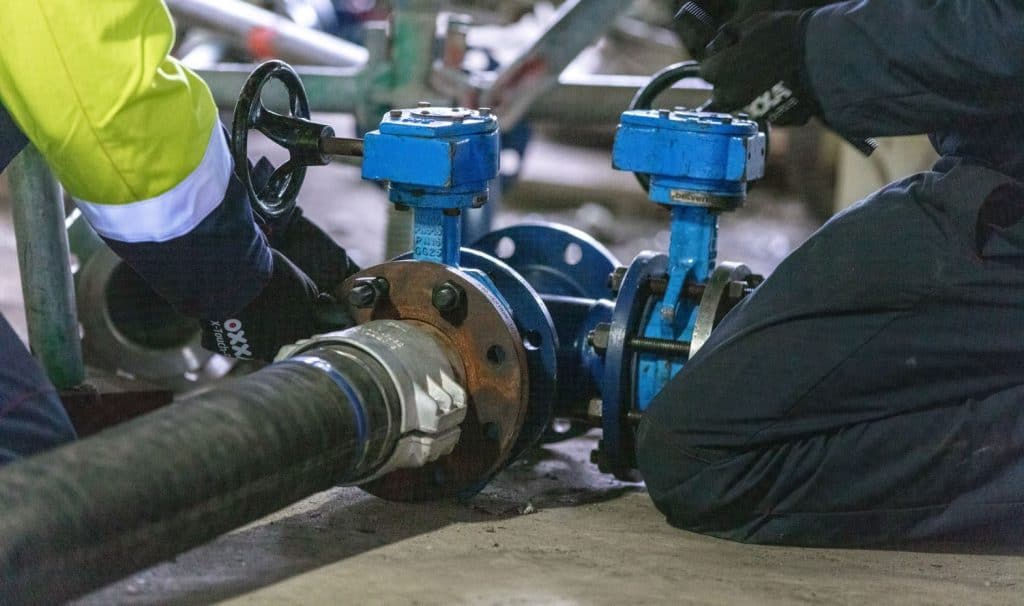 Determining the correct cleaning method
There are various methods for removing the aforementioned contamination. You can read more about these later on.
A project inventory is required to determine the correct cleaning method. During this step the cleaning method is determined on the basis of:
Contamination present in the system;
Complexity of the system;
The material or materials the system consists of;
The desired cleaning result by the customer or manufacturer of the system.
The correct assessment for choosing a cleaning method and then its professional implementation, requires expertise. This is where the distinctive character of Vecom lies.
Pre-commissioning, the different methods
The most common cleaning methods for pre-commissioning are:
Cleaning based on hydrochloric acid
Suitable for: carbon steel, copper
Removes: iron oxides (rust), welding skin, mill scale and annealing skin
Cleaning based on hydrofluoric acid
Suitable for: carbon steel, stainless steel, alloys with chromium or P91/92
Removes: iron oxides (rust), welding skin, mill scale, annealing skin & silicate compounds
Cleaning based on citric acid
Suitable for: carbon steel, stainless steel, alloys with chromium or P91/92
Removes: iron oxides (rust), at high temperatures or after adding of additional chemistry, also suitable for removing mill scale and annealing skin
Cleaning based on EDTA/Demclean 94
Suitable for: carbon steel, stainless steel, alloys with chromium or P91/92
Removes: iron oxide (rust) and very light grease / atmospheric contamination
Cleaning based on VPX One Step®
Suitable for: carbon steel, stainless steel, alloys with chromium or P91/92
Removes: iron oxide (rust)