Packing
The demands imposed on the treated material are constantly increasing. This also has an effect on the method of packaging. Vecom understands that better than anyone and therefore pays the necessary attention to this. To ensure the cleanliness of the treated material, for example, open ends, flanges etc. are sealed with plastic caps and sealed with adhesive tape and/or polyethylene foil.
Complete cooler bundles have also been vacuum-packed to ensure "good preservation" as much as possible.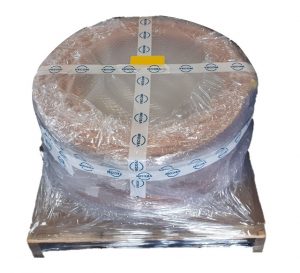 With material that has been cleaned for oxygen applications or vacuum applications, it is even more obvious that the packaging of these materials is an important part of our procedures and in good hands with Vecom.
Transport
Vecom has its own truck in order to unburden customers as much as possible if wanted.
We are also licensed to collect and process inorganic waste water streams.
If our own truck cannot be used for practical reasons, we work together with reputable transport companies in order to still be able to help you.