The cleaner and more reliable the systems of your ship, the more time you have for your core business
That is why Vecom Industrial Services is your partner. Because chemical technical cleaning of installations and components on board of ships is part of our core business.
Shipping is a very innovative sector. The performance of modern ships is impressive. So is the interior. Complex labyrinths of pipes carry fuels, (hydraulic) oil, water, gases and steam throughout the ship. Whether it concerns cargo, flammable substances, fire extinguishing water for sprinkler systems or drinking water, we know all systems through and through. It is our work, our experience, our expertise. You don't have to worry about cleaning all your pipes. We can relieve you as much as possible.
Core business
As a cruise ship owner, you want to offer thousands of passengers an unforgettable experience and you don't want to worry about the miles of piping in your ship.
You are a dredger, and the strength of your company is the strength of your trailing suction hopper dredger, not half the strength.
As the owner of a charter yacht, you promise your customers that they can have a drink without worries, because everything below deck is one hundred percent under control.
The efficiency of your tanker depends on immaculate pipes, so that the cargo can be loaded quickly and without contamination.
As a manufacturer of superyachts, you deliver nothing but absolute perfection.
As a pipeline vessel superintendent, you don't want to worry about the quality of your vessel.
As a ferry operator, you want your passengers to make the crossing safely and comfortably.
As the captain of a navy vessel, you want to guarantee your crew members maximum safety of a reliable and strong ship.
The cleaner the systems of the ship, the better everything works. And there is the bottleneck. Because it is precisely in the capillaries of the ship, in the difficult to reach pipes, engines and storage areas that it is difficult to clean. In addition, maritime shipping uses specific materials that are resistant to salt water, such as cunifer. This requires a different treatment than other metals and alloys. It is therefore
very important to consider the maintenance in time and, above all, to always opt for a specific solution.
Vecom Industrial Services specializes in precisely those difficult-to-reach, but vital systems and installations in your ship. We also know the chemical properties of all materials used in shipping. With seventy years of experience in maritime chemistry and cleaning techniques, we go further where the knowledge and skills of others stop. We know the challenges you face when cleaning metal pipes, surfaces, machines and compartments. Not only do we know exactly how to carry out those complex assignments, we also enjoy doing it. That is why we have made it our core business.
What we do
The specific cleaning method depends on a number of factors, such as the material of which the installation consists, the type of pollution and the wishes of you as the client. Where possible, we are happy to visit the site to see the problems in practice and to take samples of the pollution and examine them in our laboratory. We then solve any problem on board with the ideal combination of temperature, flow, chemistry and specific equipment.
Chemical metal surface cleaning is our profession. We do this both pre-commissioning when new installations are commissioned or post-commissioning for projects where preventive or corrective maintenance
is required after intensive use. The pre-commission cleaning essentially consists of three phases:
1. Degrease
Light oil and grease contamination, originating from the production process and various operations, as well as atmospheric dirt, are removed.
2. Pickling
Iron oxides are removed and (if present) also the mill scale.
3. Passivation
After pickling, the steel surface is active and will immediately rust (flash rust). To counter this, the steel is temporarily protected with a chemical treatment, which forms the stable gamma-iron III oxide.
Brochure
We have made a beautiful brochure on this subject. You can download it as a PDF or request for a printed copy. Both for free.
The Vecom way
Vecom Industrial Services is known worldwide as the specialist in metal surface treatment
An indispensable partner in international commercial and pleasure craft
With Vecom Industrial Services, you get seventy years of experience and the most current expertise on board for spotless metal interiors
Vecom Industrial Services provides targeted problem analysis, solution and implementation
Safe for people, the environment and metal: the Vecom way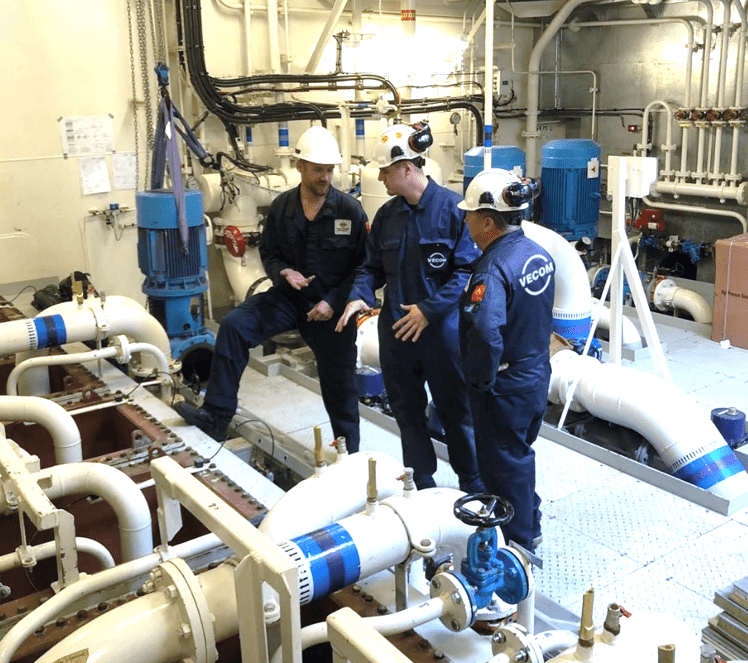 Certification
To guarantee the safety and environmental requirements, Vecom has a management system that is certified in accordance with ISO 9001:2015, ISO 14001:2015 and Safety Checklist Contractors.
Quality ISO 9001 : 2015
Environment ISO 14001 : 2015
Safety
- HSE Checklist Contractors (VCA*)
- Membership Industrial Cleaning Foundation
- Recognition Chemical Technical Inspection and Certification Body