Worldwide chemical-technical cleaning on-site
The Vecom Group has been an specialist in chemical technical cleaning on-site (worldwide) for 70 years, but can also carry out cleaning in our metal laundries if required. The vast majority of on-site cleaning activities consist of regular activities without specific specialism. Vecom Industrial Services, on the other hand, focuses on customer and process-specific solutions and thus operates in niche markets.
In short, we continue where others stop.
Chemical-technical cleaning services
The Vecom way
Vecom strives to be the best quality service provider in metal surface treatment. Knowledge and experience is combined with flexibility and operational perfection. Safety, people and the environment come first.
Therefore, when it comes to metal surface treatment, Vecom has all the knowledge, expertise and installations to deal with chemicals, metal and waste water streams in a responsible way. Clients often indicate that they would like to have their products and installations treated "the Vecom way". This makes them feel 100% assured that the correct treatment is applied to their precious metal parts, products and installations.
Advantages of chemical technical cleaning by Vecom
Time efficient;
The highest quality guaranteed;
Safety for people and the environment;
A solution for every challenge on-site.
Time efficient
To ensure that the installations can be put into operation as quickly as possible (again), it is first discussed what the most suitable process is for metal surface cleaning. Vecom never sacrifices quality due to time constraints. We can however attempt to think of solutions to ensure that there is minimal downtime for production, for example.
For the chemical technical cleaning of two boilers, we clean them in one go so that minimal downtime is required. Moreover, less chemicals are required and less waste water remains. Apart from economic benefits, this is primarily beneficial to the environment.
The highest quality guaranteed
Cleaning is an important part of maintenance to guarantee the efficiency of the machines and the service life. When cleaning and maintaining machines and installations, however, increasingly complex issues arise, for example: bacteria that are still unknown; new alloys that react differently to cleaning agents. A small error can therefore have disastrous consequences, both for the health of employees and for the financial results. A production that stands still because the maintenance takes longer than planned, damage or contamination: the true value of maintenance only becomes clear when things go wrong.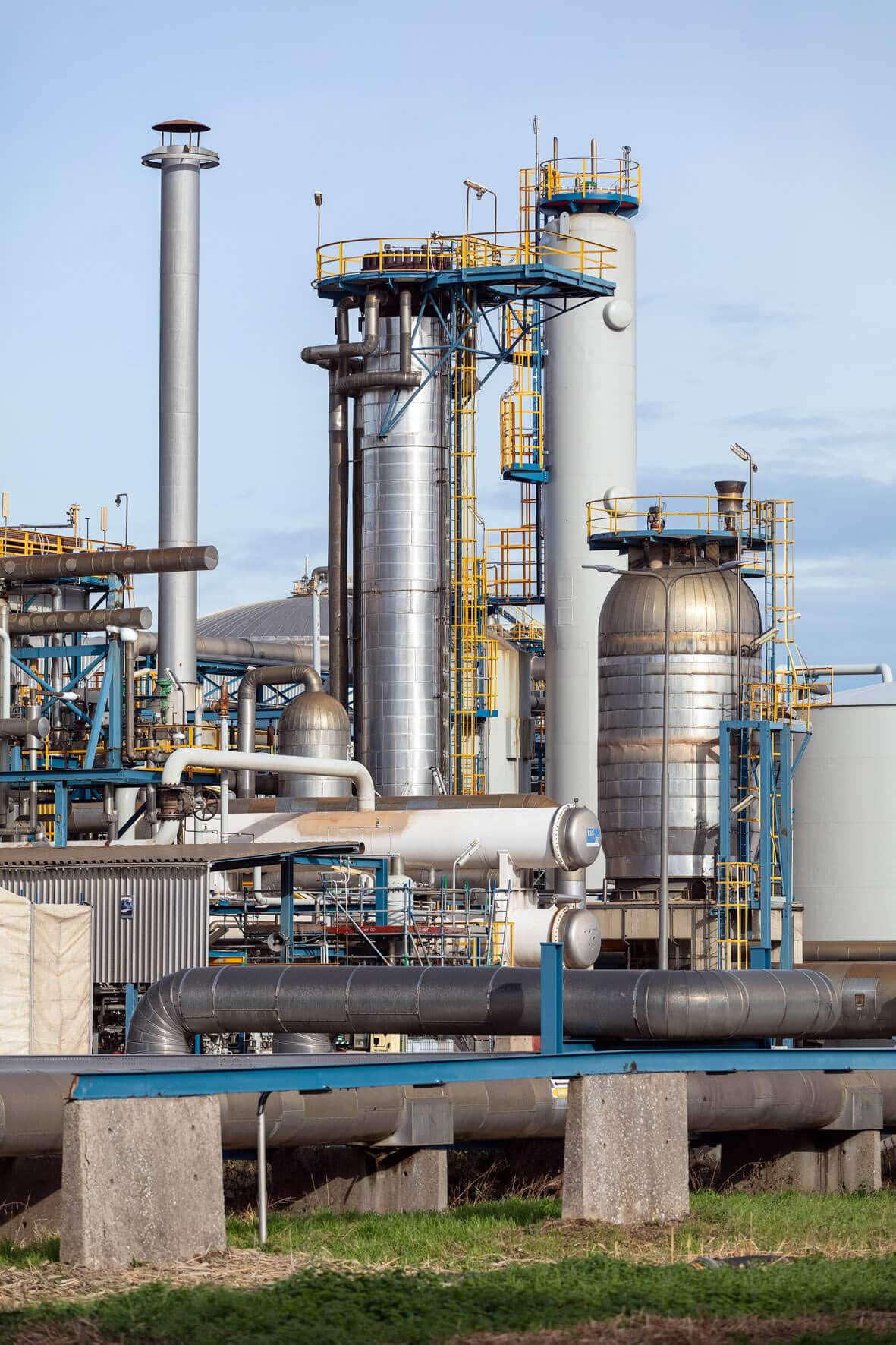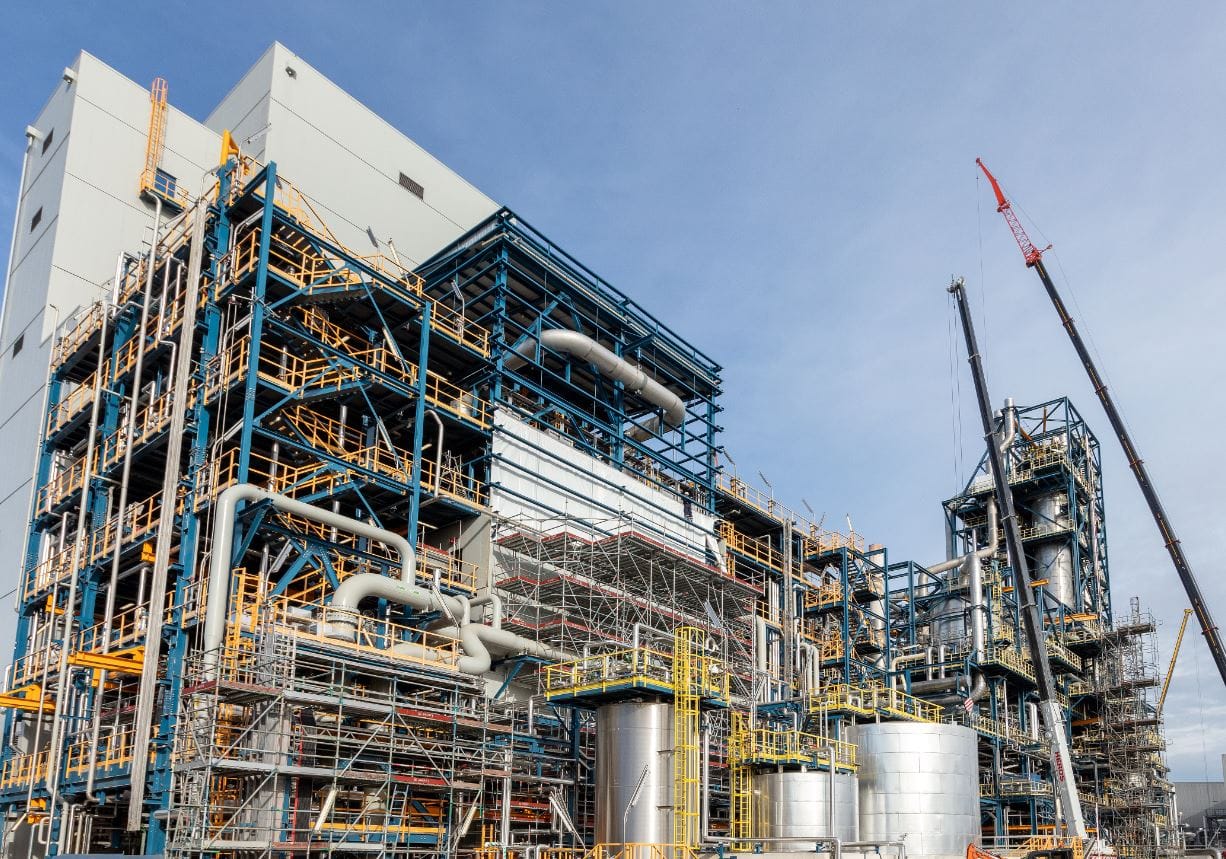 The Vecom way also means that procedures are registered for each customer. This guarantees identical results for similar types of metal contamination. When a new procedure is required, it is tailor-made. Research into the contamination is done in the in-house laboratory of Vecom. If there is no suitable cleaning product on the market, Vecom has it made according to its own recipe, also in-house. This allows Vecom to deliver the highest quality. Every time, without exceptions.
Quality certification
To indicate that the quality of the services and products of Vecom are guaranteed of a premium level, Vecom has the following certifications:
Quality: ISO 9001 : 2015
Environment: ISO 14001 : 2015
Safety: VGM Checklist Contractors (VCA*)
SIR Certificate
Erkenning Chemisch Technische Keurings- en Certificeringsinstantie SIR
The annual SHEQ report is available upon request.
Safety for people and the environment
Care for the environment is at the heart of the entire production process. For example, most process water is reused. Vecom packaging can be recycled.
Under our supervision, waste water is stored, processed and treated locally so that it is safe to discharge via the drain pipes. We take the chemicals with us which are neutralized in a DND installation (Detoxification, Neutralization, Dewatering).
We continue to look for more people-friendly and environmentally-friendly solutions for chemical-technical cleaning and the in-house laboratory of Vecom is challenged daily to develop safer and environmentally friendly products and services.
Customer satisfaction
The fact that Vecom is valued, is clear from the results of the customer satisfaction survey and from the reviews in which customers give Vecom an average of 8. These customers have been with us for more than 10 years on average.
Reference projects
Both in the Netherlands and abroad, the Vecom specialist come on-site for chemical-technical cleaning. In 2018, Vecom was internationally operational in Nizhnekamsk-Russia, Dunbar-Scotland, South Helwan-Egypt, Brest-France and Colón-Panama.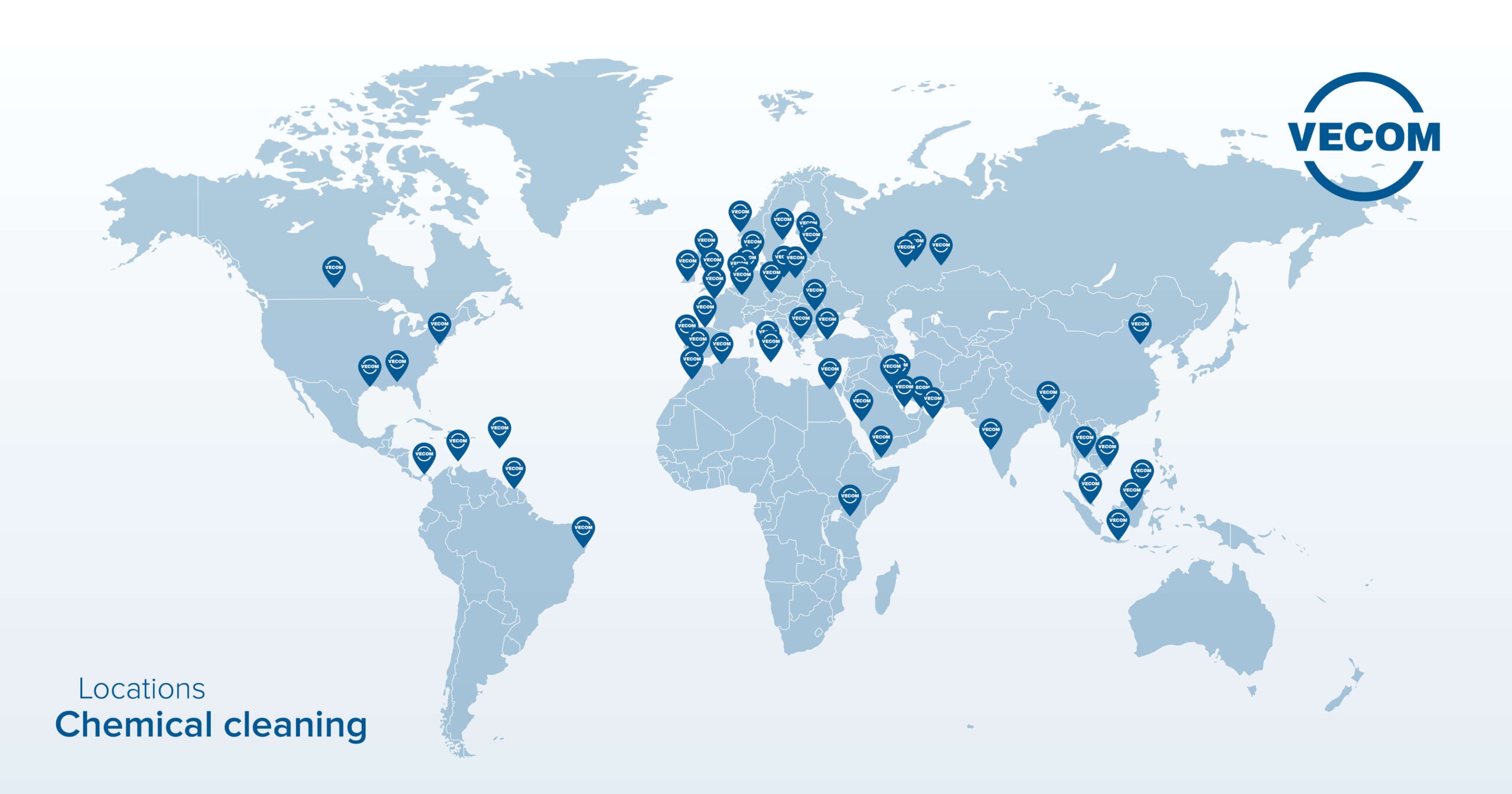 Target groups
Within the process industry we focus on the natural gas extraction, fertilizer production, production of plastics, pharmaceutical industry, blast furnaces, oleochemistry (processing of vegetable and animal oils and fats), oil refining, petrochemical, paper manufacturing, paint industry, food industry, water treatment, shipbuilding and power plants. We have extensive references at home and abroad.
Brochure
A beautiful 60-page brochure provides a detailed picture of what Vecom can do for your company. Interested in receiving a copy? Click here.
Technical offer
Feel free to make an appointment or request a technical offer. Depending on the size of the project, we will first make a site visit.